Wednesday, August 11th
Celebrate National Safe Digging Day with Virginia 811 and these BIG events!
August 11th is a BIG day. It's National Safe Digging Day – a reminder to always contact Virginia 811 before you dig and our way of thanking all the workers who keep our utilities safe while digging. Come celebrate with us – and enter to win BIG prizes! Join our video challenge by creating a unique video for your chance to win $811. And don't forget to register for our virtual run/walk to help us raise money for Construction Angels Virginia.
---
The Virginia 811 Virtual
5K or 8.11 Mile Run/Walk
Your race.  Your pace.  Your place.
Run or walk your virtual race anywhere… your neighborhood, a park, a sports track or even your treadmill at home!
August 11 – September 8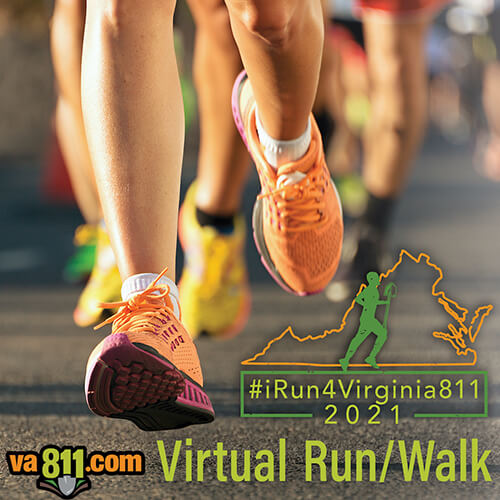 What are the dates?
Wednesday | August 11 – Wednesday | September 8.
What is a Virtual Walk/Run Race?
Run or walk your race anywhere, any time. You choose how – a treadmill at home or in the gym, your neighborhood streets, or your favorite running trail. Make it your own race!
Who can participate?
Participants can run/walk for National 811 Day. Young, old, fast, slow.  Share with your family and friends so they can participate as well.
What distance do I run/walk?
The 5K run/walk is approximately 3.1 miles. The 8.11 run/walk is 8.11 miles. If you can only walk a half mile, that's great too! Do what you can.
What is the cost?
It's free! Unless you want a limited edition Virginia 811 T-shirt (see details below).
Win prizes and have fun in the process!
Post your photo(s) on Facebook or Instagram, tag us and hashtag #iRun4Virginia811 to be eligible. Prizes will be awarded randomly each week for participants who post their photos.
Make a Difference with a Donation
Donate $8.11 when you register to receive a special limited-edition T-shirt. All proceeds benefit Construction Angels Virginia, a worthy organization that helps families who have lost loved ones due to accidents at construction sites.
When is the last day to register?
Register up until the last day – September 8th.
Click on the Link Below to Register for the Virtual 5K Run/Walk