Pay Online With Venmo or PayPal
You now have a new way to pay your Citizens bill with Venmo or PayPal!
Quick Pay
Authenticate and pay your bill with an email address or cell phone number associated with your account! (No ECare Account Needed)
Already registered?
Pay Your Bill, Manage Your Service, Report a Trouble, and much more!
Check Voicemail
To check your voicemail just dial 745-0486
Register for E-Care. Because WE Care.
Earn $5 Credit on your next invoice by registering and going Paperless!
Register today for Citizens E-Care and enjoy all the conveniences:
*View your bill online: See charges for services, telephone calls, and more!
*Pay Your Bill: E-Care is a secure way to pay your Citizens invoice. E-Care allows you to pay monthly or set up recurring Autopayments from the convenience of your computer.
*Upgrade Your Citizens Services: E-Care is a convenient way to upgrade your services. From the Quick Links Menu, you can increase your internet speed, TV package, add Calling Features to your phone, and much more!
*Report a Service Trouble: Through Citizens' E-Care, you can report any issue that you may have with your service 24/7. You can also check the status and receive updates all within your E-Care account.
We care about our customers and our environment. E-Care saves paper and the cost of stamps. It also saves time by allowing you to pay your bill and other transaction when it's convenient for you!
Grab your invoice and click here to get started! Please have your checking account or credit card information ready.
Need a little help? Download our guide to setting up your E-Care account here or call one of our helpful sales consultants
at 540.745.2111 or 276.637.6485.
Account Information
CPNI Password
We honor the privacy of our customer's account information. In fact, you have a right and we have a duty, under federal law, to protect your account information known as CPNI — Customer Proprietary Network Informaton. Please click here, complete the form and return to the nearest Citizens office or mail with your bill.
Change Password
Click here to change your password.
Dial-up Usage
Click here to check your dial-up usage
Understanding Your Bill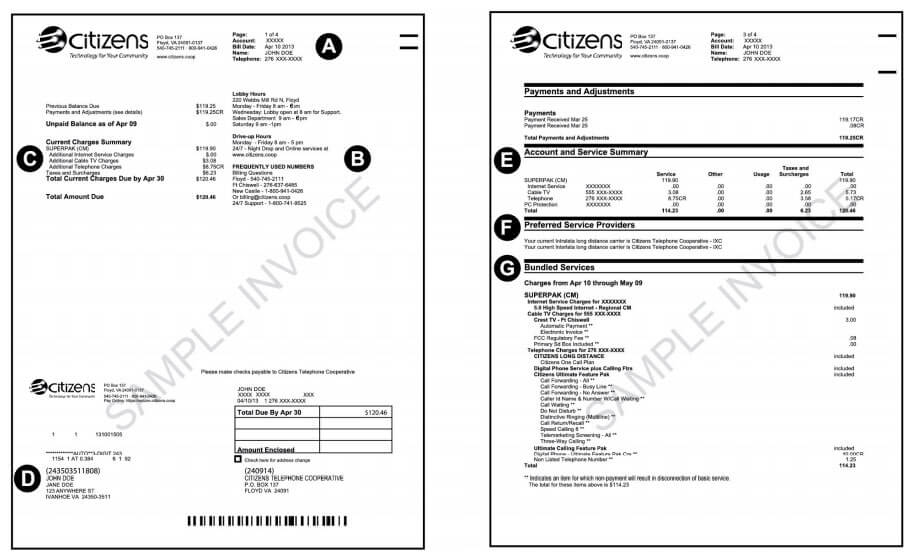 Customer Name, Account Number, Bill Date, Telephone, and Page Sequence.
Information Section
Summary of Account Balances
Remittance Stub - Retrun with Payment
Summary of Recurring and Other Charges
Long Distance Service Provider
Monthly or Bundled Service Charges
Payment Methods
Avoid the hustle and hassle of paying your Citizens bill. Citizens has five easy ways to make paying your bill convenient. Please try one of our easy payment options.
Auto-Pay Online - Have your current Citizens bill and credit card on hand,  select "Click here to pay your bill" button above and follow the set up instructions.
Auto-Pay Paper Form - Have your Payments automatically deducted from your checking or credit card account. A short and simple authorization form is all that is required from you. A printable verison of the form is available here. (pdf format)
In-Person - We invite you to come in to make your payments or drop your payment into our night-drop box.
Call-In - Call our business office at 800-941-0426 with your debit or credit card number
By Mail:
Citizens
P.O. Box 137
Floyd, VA 24091
We are sure you will find one of our five easy payment options convenient for you. If we can be of further assistance with your communication and entertainment needs, we welcome your call or visit.