CitiZip 1 GBPS
Fiber to the Home Project
Around mid year 2017, we broke ground on a fiber construction project that will allow us to offer fiber services to our customers.
Below is a map of our planned fiber buildout with areas that are completed and areas that will be constructed listed with the year they are expected to start construction.  The borders of each area is an estimation only, if you live near one of these borders, you may fall into an adjacent area (different construction year). The construction plan and map are both subject to change.
Upon completion of construction, there is a splicing and a testing phase.  Once these are completed Citizens will begin contacting eligible residents to let them know that the new service is available to them.
Current Construction Areas:
Shooting Creek Road
-
Woods Gap Road
-
Haycock Road
-
Morning Dew Lane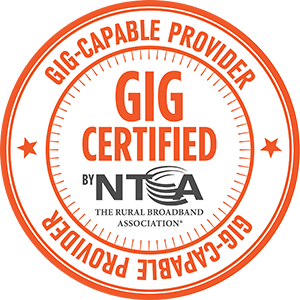 Give us your address and we will tell you if or when CitiZip Fiber service is available at your home.
History:
As a member cooperative which first started providing telecommunications service in this area in 1914, we have always strived to offer our customers comparable services to those in urban areas of the country.
Although our current copper network has allowed us to offer superior quality communication services for decades, copper networks are unable to provide the bandwidth necessary in the years to come. As more products and services become broadband dependent, we want our community to be prepared. The fiber facilities will enable so many exciting technologies like 1 Gigabit (1 Gbps or 1,000 Mbps) internet service, 4K TV, streaming video, advanced voice services, and many others. As your Cooperative, we want to be able to offer the fastest, most reliable, most capable, highest quality communication products available just about anywhere.
Why Fiber?
Citizens has started the process of overbuilding its copper network with a state-of-the-art fiber optic network that will carry communication services using light waves instead of electricity. In the communications industry, such networks are referred to as FTTH (Fiber-to-the-Home) or FTTP (Fiber to the Premise)
FTTH is the most advanced communication system available in the world today, and will be the technology relied upon worldwide to deliver communications in the future.
What are the benefits of Fiber?
Provides virtually unlimited bandwidth capacity

Higher stability and less interruptions
Less susceptible to corrosion or power surges from lightning and other sources, resulting in greater reliability
Adds value to your home and to the community
Increase the value of your home or business

A study in 2015 stated that on average having FTTH will increase the value of a home by 3.1% and up to 7% for gigabit connected homes.

For a home valued at $170,000, that is an increase ranging from $5,270 to $11,900.

Increased economic development due to the advanced technology available in the area
Rural customers can compete on a global scale in their work or business
Will I have to change wiring in my house?
For most customers, your internal home wiring will stay the same for your digital TV and phone system.  If you elect to upgrade to fiber service, Citizens will have to construct a new fiber drop to your home.  Once the drop is in place, we will be able to use your existing inside wiring.
More information about home wiring can be found here
Why Fiber is better than Cable?
Cable can't compare!
Don't mistake the claims of some companies who say they have an "enhanced fiber optic network". What they have is a hybrid connection mixing a single fiber line with the aging technology of coaxial cable. What's the difference? Fiber-to-the-Home is a 100% fiber optic connection made directly to your home or business with the ability to carry large quantities of data at enormous distance—much faster.
Fiber technology delivers clear advantages over standard coaxial cable and copper networks:
Fiber is unquestionably the fastest, most versatile high-speed internet connection
Virtually unlimited bandwidth—the sky's the limit
Get the speed you pay for all the time!
No internet slowdowns during peak hours
Crystal clear voice communication with less interference and reliable 911 service
Better video experience—see higher quality streaming video on your TV, computer

, tablets, and other devices.
When will it be available to me?
The map displays the current projected construction years of each section/area

This is subject to change and updates will be made to the map as changes happen

All customers will be notified when construction crews are in their area burying  the "main line"

There will be a delay between the construction of the main lines and connecting customers. The main line has to be completed and tested prior to connecting any customers.

We will contact you again when we are ready to start connecting customers in your neighborhood
What is the pricing/plans for CitiZip Fiber?
Find CitiZip Fiber Pricing Here
Estimate Monthly Data Your Usage