Citizens Ethernet Service is very similar to Metro-E (Metro Ethernet). We are able to offer symmetrical upload and download speeds to businesses, carriers, ISP's, and asymmetrical speeds to residential customers. Our primary delivery method is fiber to the premise (FTTP). We offer Internet service as well as point to point and point to multi-point connections. Also we offer redundant and alternate/diversified routing to carriers, ISP's, and businesses where their data connectivity is critical to their business.
Citizens owns and operates fiber facilities in the counties/cities listed below. Also listed are the industrial parks that we pass and/or provide service to. In conjunction with our partners, Citizens can facilitate connections to virtually anywhere. We can help connect your local business to other locations whether they are local, regional, national or even global. Please contact us for more information or if you have questions about service availability.
Let Us Be Your Connection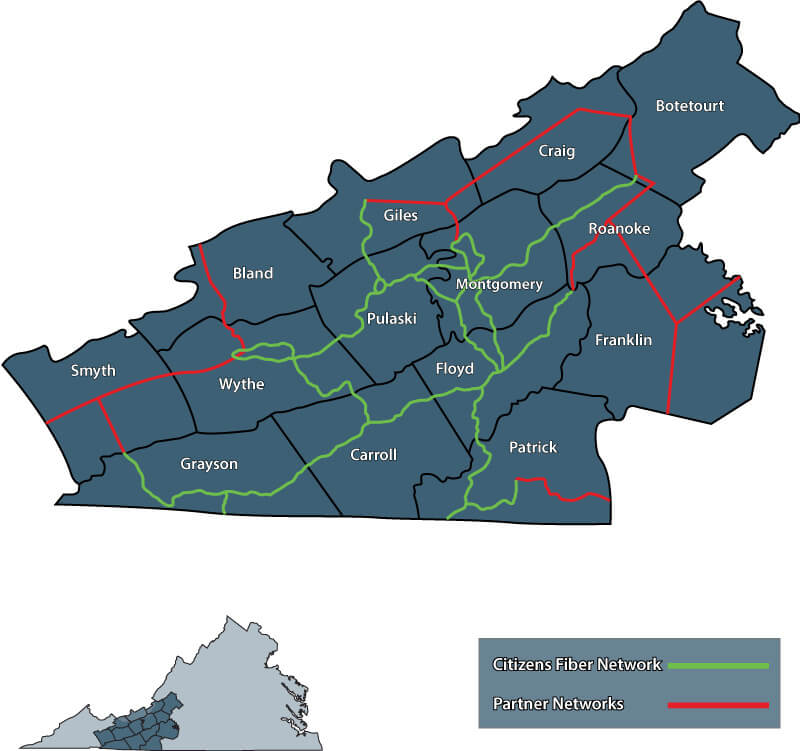 Botetourt County
Eastpark Commerce Center
Carroll
Carroll County Industrial Park
Pulaski/Dublin
Commerce Park
Corporate Park
ShaeDawn Park
Floyd
Commerce Center
Floyd Industrial Park
Galax
Glendale Industrial Park
Giles
Mountain View Industrial Park
Grayson
Grayson Industrial Park
Montgomery
Blacksburg Industrial Park
Christiansburg Industrial Park
Falling Branch Industrial Park
Patrick
Mid Atlantic Co-Location in Stuart
Radford
Radford Industrial Park
Wythe
Progress Park
Fairview Industrial Park
Citizens CitiZip for Business offers higher speeds for your company's needs. CitiZip Business is the perfect solution for a small or in-home businesses with download speeds from 5Mbps up to 100Mbps.
Add Citizens Phone, Long Distance, Calling Features and TV services for the ultimate Citizens Business experience. Let Citizens design a Small Business Bundle to meet your needs. Call us today or request service here
Fiber Solutions
Global connectivity
Dedicated service representatives to configure your service
The ability to connect locations seamlessly with point-to-point and multi-point solutions
Advanced fiber optics to support maximum connectivity and efficiency
Cost-effective service to help minimize maintenance and equipment costs
Scalable service to enable you to easily add bandwidth as you need it
Support your high-bandwidth applications including heavy data transfers, data archiving, VoIP, and more
Exchange data at speeds of up to 10 gigabytes per second
Link multiple locations seamlessly
Connect to Citizens extensive fiber network for reliability and scalability
More flexibility and higher bandwidth than DSL, T1's or cable modems
Allows you to quickly add bandwidth without purchasing new equipment
Ethernet interface enables plug-and-play compatibility with your LAN
Ethernet Services
Internet Services starting at 10Mbps, up to 1Gbps
Point-to-Point or Point-to-Multi-Point
Transport Services start at 10Mbps, up to 10 Gbps connectivity
It looks like you're outside our service area.
We don't currently have Internet Service in your area .
If this is an error and you live in a different location change it here.
Contact Andrew, Joy, or Gary today for more information
about these services and more!
1-888-501-4791