How To Determine Troubles
For your convenience, before you call for repair service, check to see if the problem is in your phone, the inside phone wiring, or in the outside line by using the NID (Network Interface Device) on the outside of your home.
The NID makes it easy for you to:
Disconnect the service
Install new wiring
Do your own testing if a telephone does not work properly.
After unscrewing the lock on the front of the NID with a screwdriver or coin, you will see two test plugs when you open the box. One plug is designated for Line 1 (for phone service) and the other is designated Line 2 (for a second phone line or Internet service.)
To better determine what your phone trouble is, you will be asked to plug a known working, non-cordless, phone into the Line 1 test plug jack.
From that point, Citizens Maintenance & Repair will walk you through trouble-shooting steps using this diagram
Below is a diagram of what you can expect to see on the inside of the NID. Regardless of the model of your box, the internal components are the same.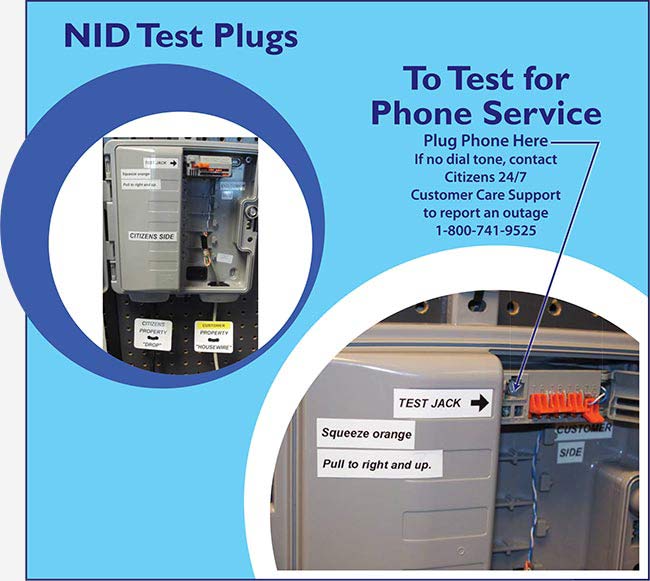 Repairs
We strive to provide the most efficient service possible. We realize that service difficulties will occur despite our best efforts to avoid them. Whenever you need assistance, call 540-745-2115 or 1-800-741-9525.
 Service Call Charges
If you call Citizens repair service and your problem cannot be solved over the phone, a technician will be dispatched to your premises to determine whether the problem is in your equipment or in the telephone line. If the problem is on Citizens side of the NID, there is usually no charge for the service call. If the problem is in the house wire, jack, or telephone equipment and they're not covered by a Citizens Maintenance Plan, you will be billed a service call charge. If inside wiring repair is needed, and you choose to have Citizens repair it, you will be charged at a rate of $80.00 per hour. For more information about our Wire Maintenance Plan, stop by Citizens and speak with one of our Customer Advocates.